Below are the decisions of the August 22 meeting – missing only is item 2.3, the revised dogs in open space action plan which was adopted but is still not public yet, as of August 24, and was covered here: https://www.cccouncilwatch.com.au/august-22-meeting-highlights/
High level summary only
Item 2.1 Monthly Finance Report July and  Item 2.2 Investment Report for July
For the months of July 2023 and August 2023, the monthly financial reports is being limited to a high-level summary to allow for the completion of the 2023/2024 FY Annual Financial Statements as a priority. 
"During this period, the content of the monthly financial reports is under review with the aim to provide reports that capture overall organisational performance, and to measure performance against the relevant mandated benchmarks," Council said.
So, no attachments this month.
Council is on track to make at least an early loan repayment of $50M to reduce the amount to be refinanced in December 2023. 
However:
For the Water, Sewer and Drainage Funds, as at 31 July 2023 Council has a combined operating deficit of $11.6M before capital income, which is unfavourable to budget by $7.8M.
"For these Funds, the unfavourable variance is mainly a timing difference due a delay in the first cycle of billing for 2023/2024 FY. The billing was generated in August 2023 totalling $6.8M."
The delay of a couple of days meant the difference to the funds being noted in the July or August report.
The investment summary is report is below.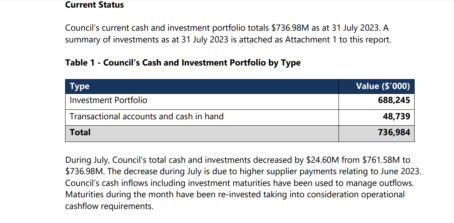 Investigating affordable housing possibilities
Item 2.4 Affordable Housing Project Sites
The total area of land that has been identified for inclusion in the affordable housing portfolio is approximately 16,500 sqm. 
The current market value of this land and associated improvements (e.g established houses) is estimated at about $16.5 million. 
Based on optimisation of sites via consolidation and strategic land swaps and changes to zoning, the future number of dwellings that could be delivered is estimated in excess of 100 depending on actual dwelling type and quality of appointments, says council.
" Some of these sites are ready (or very close to ready) for release to the market," council says.
"However, some sites will require further investigation to achieve an optimal outcome:. • Suitability of zoning • Legacy issues relating to acquisition • Disaggregated lots  • Third-party access issues • Location and protection of infrastructure services • Existing infrastructure is typically not protected by infrastructure easements • Site contamination."
The August 22 decision included adding to the portfolio and investigating next steps: selling, leasing or further investigations


Reclassifying land


Item 2.5 Bulk reclassification of land – Operational-to-Community and Community-to-Operational
The Administrator approved the plan to reclassify a total of 80 lots of Council-owned land at 14 locations in 12 different suburbs from operational to community land.
four sites with improvements (five lots in all) at Glenning Valley (part of Berkley Sports Complex), Kanwal (Lakelands Community Centre), Wamberal (Wamberal Memorial Hall) and Yarramalong (St Barnabas Church); and 

nine park and natural area sites (some of which are groups of sites, comprising 75 lots in all) at Buff Point, Davistown, Hamlyn Terrace, Jilliby, Lisarow, Noraville, Springfield and Watanobbi.
The change to community gives the land an added layer of protection, involving the State Government if council ever decides in the future to change its usage.
The changes that the community is upset about are the ones where council is proposing to change the classification from community to operational which makes it easier to sell.
These parcels included land at Austin Butler Reserve, Woy Woy and Gosford Bowling Club: https://www.cccouncilwatch.com.au/august-22-meeting-highlights/.
Update on referendum 
Item 2.6 Central Coast Council Election 2023 – Constitutional Referendum update
Question is now set in stone.
The Central Coast Council Election and Constitutional is scheduled for 14 September 2024 and the referendum question has now been adopted.
The question asks if we want to drop from 15 councillors in five wards to 9 councillors in three wards. If voted in, it would take effect at the following elections, due every four years.
No more nuclear free
Item 2.7 Revocation of Policies 
The Administrator adopts the recommendation to revoke a list of redundant policies including a nuclear free policy but adds an amendment: the council supports the previous policy and asks the CEO to write a new report for the new councillors to make a decision on.
Why get rid of the old one if they support it? Apparently it makes claims that council can not legally act on.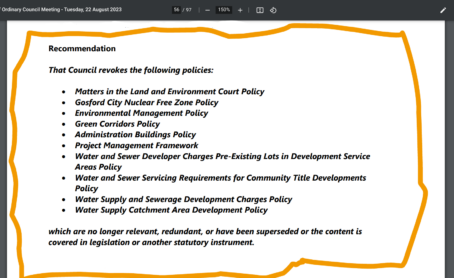 Modern slavery addressed
Item 2.8 Statement of Business Ethics 
Council's Statement of Business Ethics was adopted in 2018 and has now been updated to incorporate industry best practice and the requirements imposed by the Modern Slavery Amendment Act 2021.
From 1 July 2022, councils were required to take reasonable steps to ensure that goods and services procured by and for the council are not the product of modern slavery within the meaning of the Modern Slavery Act 2018. 
The next annual report must include

# A statement of the action taken by the council in relation to any issue raised by the Anti-slavery Commissioner during the year concerning the operations of the council and identified by the Commissioner as being a significant issue, and 
# A statement of steps taken to ensure that goods and services procured by and for the council during the year were not the product of modern slavery within the meaning of the Modern Slavery Act 2018.
Council joins International Council for Local Environmental Initiatives (ICLEI)
Item 2.9 ICLEI Local Governments for Sustainability Membership 
Council is joining ICLEI so it can get involved with its Cities with Nature Academy.
ICLEI has a global network of 2,500 local governments committed to sustainable development and is accredited to the UN Framework Convention on Climate Change and the UN Convention on Biodiversity. 
Council is certified with Ecotourism Australia as an ECO Destination, which is supported by WWF Australia's Wildlife & Nature Recovery Fund and recognises that the Central Coast is a world class destination for sustainable nature-based tourism.
Cities with Nature and its associated Academy focuses on nature, biodiversity and urban greening, through partnership with The Nature Conservancy and The International Union for Conservation of Nature (IUCN).

An online reporting platform offers tools to share actions and to learn from other local governments, Council said.
"Central Coast Council is unique in its status as a regional coastal council with over 50% remaining native vegetation, which provides the opportunity to effectively manage and protect our biodiversity and natural environments in a sustainable manner, while supporting the growth of our population," Council said.
Annual ICLEI membership is $5,555 and another $1,500 annually to join the Cities with Nature Academy.. 
No to a reduced developer contribution
Item 2.10 Review of Development Contributions – 24 Gallipoli Rd, Long Jetty
DA/1260/2021/A – 24 Gallipoli Road, Long Jetty was approved on 26 September 2022 for a seniors housing development of 89 dwellings. 
The development consent includes conditions requiring the payment of development contributions.
Council levies development contributions to assist in community infrastructure such as traffic and transport upgrades, community facilities, open space and drainage works. 
This infrastructure is required to support the future population which has been generated by new development and are based on the number of bedrooms per dwelling/apartment. 
A reduction of development contributions has previously been requested by the applicant as well as a request to enter into a planning agreement with Council. 
And the applicant gets no joy this time around either. Administrator rejects the request to lower the contribution.
Flagging what's coming up
Item 2.11 Community Engagement Plan for 2023-24
Administrator adopts a 12-month forward plan outlining the key projects, initiatives, policies, strategies and plans that Council intends to engage with the Central Coast community in 2023-24. 
The plan will be published to Council's website Your Voice Our Coast and staff will update the plan on a quarterly basis throughout the financial year. 
Council to acquire a sliver of land
Item 2.12 Acquisition of Land for Fire Trail – 130 Clyde Rd, Holgate
The Clyde Road Fire Trail extends from the western end of Clyde Road, Holgate to connect with the fire trail networks of Katandra and Rumbalara Reserves but encroaches onto private property by 180m2, Council says.
It is proposed to concrete the steeper sections of the fire trail to reduce the potential for erosion and improve access for emergency and management vehicles  
The anticipated cost of the acquisition and road works is $130,000.
Relocating the fire trail would require extensive tree removal, excavation, major civil works in the form of retaining walls and relocation of power poles.
Administrator will attend NSW annual conference
Item 2.13 Local Government NSW Annual Conference – Attendance and Voting 
Administrator will attend the 2023 Local Government NSW Annual Conference commencing 12 November 2023 as Council's voting delegate but he won't be submitting any motions.
The item doesn't say if the CEO will also attend but he did attend last year.
Council Watch is planning to attend this year too.

June grant winners announced
Item 2.14 Community Support Grant Program – June 2023 
Apply for one of these grants. They come up regularly.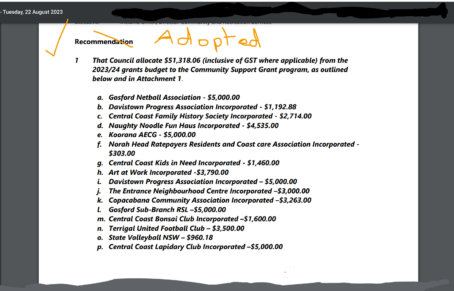 Accommodation the largest of administrator's costs
Item 2.15 Administrator Expenses and Facilities Report – 1 January 2023 to 30 June 2023 
The administrator notes his own expenses.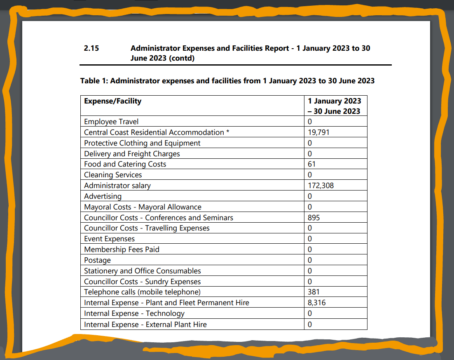 Recliner seats coming to a cinema near you
Item 2.16 Metro Cinemas Lake Haven – Amendment to lease
The council as lessor and the metro lessee have come to an agreement to install recliner seats.
The first tranche of installation is planned to occur in the next four months, so that cinema patrons can enjoy the upgraded seating over the next summer holidays, Council says.