The NSW Government has released new Coastal Design Guidelines to "protect and enhance" the state's waterways, coast, and estuaries.
The Central Coast has about 80 kilometres of coastline – from Patonga in the South to Budgewoi Beach; Tuggerah Lakes, Brisbane Water and numerous lagoons, rivers and wetlands.
The guidelines provide advice for councils, developers and other stakeholders.
They are to make sure the NSW coast remains a spectacular natural resource and place of cultural significance for generations to come, according to Department of Planning and Environment spokesperson Danijela Karac.
"The updates will help to improve strategic decision-making and environmental outcomes in our coastal places, which impacts most of our population and visitor economy in NSW," Karac said.
"They will help better inform important decisions by councils, developers and anyone involved in designing coastal places."
The guidelines include a new Coastal Management Framework and can help with decisions on:
• Requests for changes to planning rules in coastal communities;
• Appropriate design for urban areas in coastal places; and,
• Managing growing coastal communities.
The new guidelines come at a time when Central Coast Council is at the second of five stages in writing three Coastal Management Programs (CMP) which will replace older models.
The programs have to follow the guidelines of the State's Coastal Management Framework.
This framework "regulates and supports appropriate social, economic, cultural and environmental outcomes" within coastal zones.
Council's CMPs will set the long-term strategy for managing the Coast's lakes, lagoons, estuaries, beaches and their catchments.
Council has to have certified CMPs to secure State grant funding to implement actions.
"In accordance with the NSW Coastal Management Framework, Central Coast Council is required to develop Coastal Management Programs (CMPs) for our part of the NSW Coast (excluding National Parks estate)," Council's website states.
"Acknowledging the size and diversity of the coastal zone of the Central Coast, Council has decided to prepare 3 CMPs focusing on Tuggerah Lakes, the open coast and coastal lagoons and the Hawkesbury-Nepean River system including Brisbane Water.
"We will be working with Lake Macquarie City Council to develop a CMP for Lake Macquarie."
Back in early to middle 2021, Council hosted the first phase of community consultation "to inform the development of" the CMPs.
It is still in phase two: "technical studies".
Council's website says population growth, increasing residential development, coastal development and tourism is having an impact on the natural resources and environmental value of the coastline.
"Beach and dune erosion during storms has occurred on several occasions over recent decades, resulting in the loss of several buildings and threat to much of the beachfront development," Council says.
"Historically, coastal processes have threatened sections of this coastline, with particular reference to the impacts of erosion at Wamberal Beach and The Entrance North in 1974, 1978, 1986 and 1997.
"Damage to public assets and impacts upon recreational amenity has also been experienced at other beaches in the Central Coast's area.
"These issues are likely to be intensified as a result of assumed climate change impacts and projected rises in mean sea level," Council says.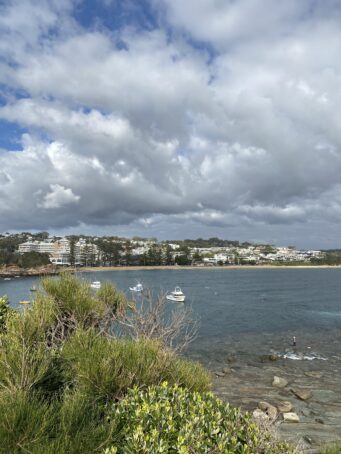 Photo: The Skillion looking back across the Haven to Terrigal.