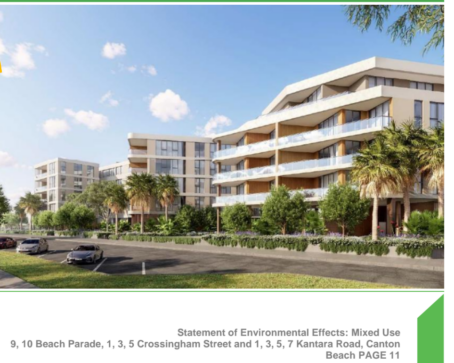 A five storey development over nine blocks of land across the road from Canton Beach continues the developer vision for five storeys while the Council standard is four storeys.

The latest Development Application (DA) would see 91 residential units and six serviced apartments built above an "eat street" corridor of ground floor shops designed to cater for tourists.

The nine blocks are 9, 10 Beach Parade, 1, 3, 5 Crossingham St and 1, 3, 5, 7 Kantara Rd, Canton Beach.

Once amalgamated, the land parcel will have a total area of 6,348.8m2.

A pre DA meeting with Council noted the area is zoned for tourism and Council said it wanted tourism uses prominent.

Issues such as the height restrictions of 16 metres and the land being at or below flood planning levels were among the discussions.

The applicant has included a study that compares the existing and post-development flood model results.

Minor increases in flood levels are confined to the road reserve on Beach Parade, Crossingham St and Kantara R.

The development will have minor positive impacts with minor reductions in flood levels on private properties to the east of Kantara Road, the application states.

These reductions are based on the five per cent and one per cent AEP levels (annual exceedance percentage, meant to describe the probability of a flood exceeding that level).

The proposed minimum floor level for the development and crest of the underground carpark entrance is above the flood planning level.

When it comes to the height variation, the applicant says the proposal has been designed to fit in with the approved five storey development beside it at 5-8 Beach Parade.

That applicant has approval for a 15 percent variation to the 16M development standard at 18.41m (21.83m AHD).

The 5-8 Beach St applicant has recently submitted to council a new application to amend its approved development from 36 units to 40 units, with no changes in height.

That is the site where the Lake Edge Caravan Park used to be.

Written submissions for the nine-lot DA close on December 1.
https://eservices.centralcoast.nsw.gov.au/…/EnquiryDeta…

If that doesn't work: go here to see all current DAs on public exhibition and scroll!!.
https://www.centralcoast.nsw.gov.au/…/current…

The amended submission for 5-8 Beach Parade is not yet on public exhibition.